As a charity you're about serving others… We'll help you keep focus.
You're passionate about your cause. You know the big goals.  You know why you get out of bed in the morning.
That's probably nothing to do with computers and "IT stuff".  But you almost certainly have a collection of IT stuff that you depend on every day to accomplish those big ideals from email and phones to spreadsheets and fundraising sites.
We're passionate about IT helping you accomplish your big goals.  We'll help you get the right IT systems in place so they help you achieve your mission instead of distracting you from it.
You need volunteers, donors, suppliers and partners.  You need to convince people of your cause, raise funds, send emails, call people, run events, accept donations, send thank-you's, and do a load of work that seems so remote from your purpose.  Most charities start small with minimal technology and adopt a collection of systems because they seem like a good idea at the time!  Are your IT systems effective in supporting your mission?
That's where we can help!  We'll work with you to understand your need for IT systems.  Together we will review your current systems to assess their strengths and weaknesses.  With that in mind we enhance or create IT processes to suit you.  Great systems empower you to fulfil your mission with efficiency and ease.
Our usual system of choice is CiviCRM.  At heart, many charities, churches, non-profits, campaigning groups, local groups and even small businesses have similar needs: they are about people and need to manage information about, and communicate with, those people… and CiviCRM has a great range of features specially designed for those needs.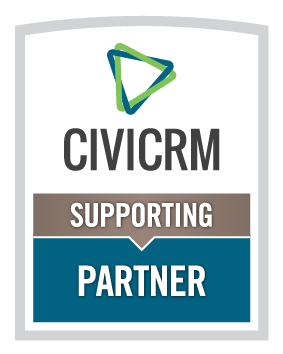 CiviCRM (read more) helps you run many aspects of your charity on a single, flexible, integrated platform.  It is open source software so there are no costly licensing fees and is supported by an enthusiastic, highly skilled and friendly global community.  Start with the parts you need now and add new features as you're ready.
If CiviCRM is a good fit for your charity, we will work with you to plan and implement the system in a way that works for you and migrate your existing data into it.  If not, we will recommend alternative strategies.